CDs


promos


CDRDJ 6545
Tomorrow Comes Today, Rock The House, Latin Simone, 12D3


GOR 001
rare French 7-track promo CD
Tomorrow Comes Today, Re-Hash, Latin Simone, Clint Eastwood, 5/4, Slow Country, Tomorrow Comes Today (enhanced video)


CDRDJ 6552
Clint Eastwood (Ed Case Refix Edit, Original Mix Edit)


CDRDJX6552
Clint Eastwood (Original Mix Edit)


"Clint Eastwood" autographed by Phili from Phi Life Cypher
Clint Eastwood (12"A) (5"54), Clint Eastwood (Ed Case Refix Full Version) (12"B1) (4"27), Clint Eastwood (Original Mix Clean Edit) (3"46)


DPRO-16183 US promo CD
Clint Eastwood (Original Mix Edit, Ed Case Refix Edit, Phi Life Cypher, Call Out Hook)


Zombie 001
Re-Hash, 5/4, Tomorrow Comes Today , New Genious (brother), Clint Eastwood, Man Research (clapper), Punk, Sound Check (gravity), double bass, Rock The House, 19-2000, Latin Simone (feat. Ibrahim Ferrer), Starshine, Slow Country, M1 A1 + Clint Eastwood Ed Case mix (hidden track)


07243 5 32565 2 French promo CD
Album (sampler) Re-Hash, 5/4, Tomorrow Comes Today , New Genious (brother), Clint Eastwood, Man Research (clapper), Punk, Sound Check (gravity), double bass, Rock The House, 19-2000, Latin Simone (feat. Ibrahim Ferrer), Starshine, Slow Country, M1 A1 + Clint Eastwood Ed Case mix (hidden track)


Zombie 002
The Apex Tapes: Gorillaz interview


7243 5 50077 2 8 French promo CD
Dracula (4"41), Hip Albatross (2"41), Left Hand Suzuki Method (3"10), The Sounder (6"16)

note: the track list is printed in the wrong order on the sleeve. The Sounder is the full version here, therefore different from that found elsewhere
CDRDJ 6559
19-2000 (soulchild remix), 19-2000 (original mix) with French gatefold leaflet


CDRDJ 6565
Rock The House (radio edit), The Sounder (edit)


G-Sides - EMI Music France French promo CD
19-2000 (Soulchild Remix), Dracula, Rock The House (Radio Edit), The Sounder (Edit), Faust, Clint Eastwood (Phi Life Cypher Version), Ghost Train, Hip Albatross, Left Hand Suzuki Method, 12D3


SMVG 001- EMI Music France French promo CD
Laika Come Home by Space Monkeyz Vs Gorillaz
1. Jungle Fresh, 2. Strictly Rubbadub, 3. Banana Baby, 4. Monkey Racket, 5. De-Punked, 6. P45, 7. Dub 0 9, 8. Crooked Dub, 9. Mutant Genius, 10. Come Again, 11. A Fistful Of Peanuts, 12. Lil' Dub Chefin'


SMVG 001
Laika Come Home by Space Monkeyz Vs Gorillaz
1. Jungle Fresh, 2. Strictly Rubbadub, 3. Banana Baby, 4. Monkey Racket, 5. De-Punked, 6. P45, 7. Dub 09, 8. Crooked Dub, 9. Mutant Genius, 10. Come Again, 11. A Fistful Of Peanuts, 12. Lil' Dub Chefin'


albums


Gorillaz
Limited Edition Digipack incl. Multimedia section + a 20-page booklet of cartoons by Jamie Hewlett (5320930)
Re-Hash, 5/4, Tomorrow Comes Today , New Genious (brother), Clint Eastwood, Man Research (clapper), Punk, Sound Check (gravity), double bass, Rock The House, 19-2000, Latin Simone (feat. Ibrahim Ferrer), Starshine, Slow Country, M1 A1 + Clint Eastwood Ed Case mix (hidden track)


Gorillaz
(7243 534488 0 6) + 7-track AVCD (07243 879699 0 2)
Re-Hash, 5/4, Tomorrow Comes Today , New Genious (brother), Clint Eastwood, Man Research (clapper), Punk, Sound Check (gravity), double bass, Rock The House, 19-2000, Latin Simone (feat. Ibrahim Ferrer), Starshine, Slow Country, M1 A1, Clint Eastwood (Ed Case/Sweetie Irie Re-fix) (Edit), 19-2000 (Soulchild Remix)


g sides
TOCP-65932 (Japanese Import)
Cover: Noodle is holding Godzilla
19-2000 (Soulchild Remix), Dracula, Rock The House (Radio Edit), The Sounder (Edit), Faust, Clint Eastwood (Phi Life Cypher Version), Ghost Train, Hip Albatross, Left Hand Suzuki Method, 12D3, Clint Eastwood (Video), Rock The House (Video)


click here to read my review of g sides for PRESTO!, a French music magazine
g sides
7243 5 369420 3 (Japanese Version)
Cover: Noodle is holding a skeleton
19-2000 (Soulchild Remix), Dracula, Rock The House (Radio Edit), The Sounder (Edit), Faust, Clint Eastwood (Phi Life Cypher Version), Ghost Train, Hip Albatross, Left Hand Suzuki Method, 12D3, Clint Eastwood (Video), Rock The House (Video)


g sides
7243 8 11967 2 4 (American Import)
Cover: Noodle is holding Godzilla
19-2000 (Soulchild Remix), Latin Simone (Que Pasa Contigo), 19-2000 (The Wiseguys House Of Wisdom Re-Mix), The Sounder (Edit), Faust, Clint Eastwood (Phi Life Cypher Version), Ghost Train, Hip Albatross, 12D3


Laika Come Home by Space Monkeyz Vs Gorillaz
07243 539 982 2 6
1. Jungle Fresh, 2. Strictly Rubbadub, 3. Banana Baby, 4. Monkey Racket, 5. De-Punked, 6. P45, 7. Dub 09, 8. Crooked Dub, 9. Mutant Genius, 10. Come Again, 11. A Fistful Of Peanuts, 12. Lil' Dub Chefin'

click here to read my review of Laika Come Home for PRESTO!, a French music magazine


All Time Hits 1980-2002
MB CD 137/2103 - Music Box Records (made in Russia)
1. 5/4 (Five Four), 2. The Sounder, 3. Tomorrow Comes Today, 4. Faust, 5. Clint Eastwood, 6. Ghost Train, 7. New Genious (Brother), 8. Man Research (Clapper), 9. 12 D 3, 10. Latin Simone (Que Pasa Contigo), 11. Double Pass, 12. Gorillaz On My Mind (with Redman / from ost Blade 2), 13. 19-2000, 14. Rock the House, 15. Dracula, 16. Starshine, 17. Left Hand Suzuki Method, 18. Slow Country, 19. Sound Check (Gravity), 20. M1 A1


Space Monkeyz Vs Gorillaz
7243 551206 0 1 - CDR 6584
Lil' Dub Chefin' - album version - originally "M1 A1" ; Lil' Dub Chefin' - radio edit - originally "M1 A1" ; Space Monkeyz Theme ; video - Lil' Dub Chefin'


singles


CDR 6545
Tomorrow Comes Today, Rock The House, Latin Simone, 12D3, Tomorrow Comes Today (Enhanced Video)


CDR 6552
Clint Eastwood, Clint Eastwood (Ed Case Refix), Dracula, Clint Eastwood (Enhanced Video)


PM 110
Clint Eastwood (5:54), Dracula (4:41)


CDR 6559
19/2000 (original mix), 19/2000 (soulchild remix), Left Hand Suzuki Method, Making of 19/2000 the video. "Realizing The Dream" (Enhanced Video)


CDRS 6565
CD1 of 2: Rock The House, The Sounder, Faust, Rock The House (Enhanced Content)


CDR6565
CD2 of 2: Rock The House, Ghost Train, 19/2000, 19/2000 (Enhanced Content)


CDR 6573
Tomorrow Comes Today, Film Music, Tomorrow Dub, Tomorrow Comes Today (Enhanced Video)


motion picture soundtracks


7243 5 39011 2 7
Blade II incl. Gorillaz & Redman's Gorillaz On My Mind


bootlegs


Gorillaz Live London 2001
(recorded live at La Scala, London, on March 22, 2001)
1. M1A1 ; 2. Tomorrow Comes Today ; 3. Slow Country ; 4. Starshine ; 5. Man Research ; 6. Sound check (gravity) ; 7. Latin Simone ; 8. Re Hash ; 9. Clint Eastwood ; 10. Dracula ; 11. Punk


Gorillaz interview with Damon Albarn and Jamie Hewlett, Paris, 22/06/2001


Gorillaz at La Cigale (recorded live in Paris on June 22, 2001)
1. M1A1 ; 2. Tomorrow Comes Today ; 3. Slow Country ; 4. 5/4 ; 5. Starshine ; 6. Man Research ; 7. Sound check (gravity) ; 8. Latin Simone ; 9. Re Hash ; 10. Clint Eastwood ; 11. Rock the House ; 12. Dracula ; 13. 19-2000 ; 14. Punk ; 15. Tomorrow Comes Today ; 16. Clint Eastwood


Gorillaz at La Cigale
(recorded live in Paris on June 22, 2001)
1. M1A1 ; 2. Tomorrow Comes Today ; 3. Slow Country ; 4. 5/4 ; 5. Starshine ; 6. Man Research ; 7. Sound check (gravity) ; 8. Latin Simone ; 9. Re Hash ; 10. Clint Eastwood ; 11. Rock the House ; 12. Dracula ; 13. 19-2000 ; 14. Punk ; 15. Intermission ; 16. Tomorrow Comes Today ; 17. Clint Eastwood


Gorillaz
(recorded live at the Forum, London, on September 28, 2001)
1. M1A1 ; 2. Tomorrow Comes Today ; 3. Slow Country ; 4. Sound check (gravity) ; 5. Re Hash ; 6. Rock the House ; 7. Dracula ; 8. 19/2000 ; 9. Punk ; 10. 5/4 ; 11. Clint Eastwood


911 by Gorillaz & D12


chat with Damon Albarn, BBC Radio2, Stuart Maconie's show, 08/04/2002


compilations


Objectif 2001, tome 2 les découvertes, incl. Tomorrow Comes Today, CD LI 01 35, Les Inrockuptibles n° 280, mars 2001


Kevin & Bean present Swallow my Eggnog, KROQ 2001 Christmas 31-track US compilation CD. Includes Clint Frostwood by Chillaz and Don Quixote's Christmas Bonanza by Gorillaz (KROQ Records - 888-1770002), 2001


Objectif 2002, tome 1 événements, incl. Sunset Coming On by Damon Albarn & Malian Musicians and Clint Eastwood (Phi Life Cypher version) by Gorillaz, CD LI 02 46, Les Inrockuptibles n° 327, 26 février-4 mars 2002


Collector 2, incl. Makelekele (version instrumentale) by Damon Albarn & Malian Musicians and Jungle Fresh by Space Monkeyz Vs Gorillaz, CD LI 02 50, Les Inrockuptibles n° 338, mai 2002


records


promo vinyls


10RDJ6545 (UK promo 10")
Tomorrow Comes Today ; Rock The House ; Latin Simone ; 12D3


7RDJ 6552 (UK promo 7")
Clint Eastwood, Dracula


12 RWL 6552 (UK white label promo 12")
Clint Eastwood (Ed Case mix), Slow Country (Curtis Lynch Jr mix), Tomorrow Comes Today (Middle Row mix)


SPRO-16418 (US promo 12")
Clint Eastwood (12" Clean Edit - 5:54) ; (Radio Edit - 3:44) ; (Ed Case Refix Clean Version - 3:55) ; (Phi Life Cypher Clean Version - 4:57)


10RDJ 6559 (UK promo 10")
19-2000 (Original Mix/ Soulchild Remix/ The Wiseguys House Of Wisdom Mix)


GZD 12 911 (UK white label promo 12")
911 featuring Terry Hall by Gorillaz & D12


12RDJ 6565 (UK promo 12")
Rock The House ; The Sounder


RDJ 6573 (UK white label promo 7")
Tomorrow Comes Today ; Tomorrow-Dub


SMVG003 (UK promo 7")
Lil' Dub Chefin', Strictly Rubbadub by Space Monkeyz Vs. Gorillaz


SMVG004 (UK promo 10")
Lil' Dub Chefin', Banana Baby ; Strictly Rubbadub, Jungle Fresh by Space Monkeyz Vs. Gorillaz


KONG01 (UK white label promo 12")
Dirty Harry (Vocal ; Instrumental ; Acapella)


LPs


Gorillaz
5311381 (double LP nicely decorated with drawings made by Damon Albarn and Jamie Hewlett)
Re-Hash, 5/4, Tomorrow Comes Today , New Genious (brother), Clint Eastwood, Man Research (clapper), Punk, Sound Check (gravity), double bass, Rock The House, 19-2000, Latin Simone (feat. Ibrahim Ferrer), Starshine, Slow Country, M1 A1, Clint Eastwood (Ed Case/Sweetie Irie Refix)


12"


12R 6545
Tomorrow Comes Today, Rock the House, Latin Simone, 12D3


12R 6552
Clint Eastwood, Clint Eastwood (Ed Case Refix), Clint Eastwood (Phi Life Cypher)


12R 6559
19/2000 (original mix), Left Hand Suzuki Method, 19/2000 (The Wiseguys House Of Wisdom Remix)


12R 6573
Tomorrow Comes Today, Tomorrow Dub, Film Music (mode remix)


acetates


Gorillaz - 19-2000 Darren Mix (344) (45)
A mega-rare one-sided unreleased 12" acetate of '19-2000' featuring the Darren Mix, 3:44. It was recorded at The Town House Studios, London. It has a Town House hand-written label. It comes in a plain black outer sleeve.


CD-ROMs & DVDs


GOR 002
Dazed&Confused Promo CD ROM featuring the promo video for Tomorrow Comes Today +Band Biog & link to Gorillaz.com


DVDR 6573
Tomorrow Comes Today (DVD Video), Film Music (audio), Tomorrow Dub (audio), 'Jump the gut' PT. 1 (30"), ), 'Jump the gut' PT. 2 (30")


PM: 910
PHASE 1 : CELEBRITY TAKE DOWN (limited special edition)
It features:
- 5 gorillaz videos presented in 5.1 surround sound - Clint Eastwood, 19/2000, Tomorrow Comes Today, Rock the House, and the unfinished video for 5/4, original storyboards and animatics
- multi angle 'live performance' from the Brit Awards incl. Exclusive Mandarin version
- 5 "gorilla bites" (short animation pieces)
- Gorillaz gallery
- website tour
- visuals from the gorillaz live show
- interview with frontman 2d
- Dr Wurzek's winnebago
- "the charts of darkness" - gorillaz behind the scenes documentary
- hidden extras
The bonus cd-rom features 8 screensavers, 2 games, 12 wallpapers and the key to the future of gorillaz.com
It includes 52-page full colour illustrated history of gorillaz and an exclusive sticker sheet
review here


videos


Tomorrow Comes Today


Clint Eastwood


19-2000


Rock The House

Gorillaz on Big Breakfast (March)


Gorillaz on Select, MTV (with Jamie Hewlett & Damon Albarn) (April 01)


Gorillaz on JDM, MCM (with Jamie Hewlett & Damon Albarn) (May 01)


Gorillaz at La Cigale, Paris, June 22, 2001


Gorillaz Special, MTV2 (with Jamie Hewlett & Damon Albarn + promo videos of 19-2000, Clint Eastwood, Tomorrow Comes Today) (11/09/01) (with & without French subtitles)


MTV Europe Music Awards (spotlights with Jamie Hewlett & Damon Albarn: Best New Act, Best Group, Best Song)


MTV Europe Music Awards (ceremony with Jamie Hewlett & Damon Albarn: award for Best Dance: Damon's CND speech ; promo video of Rock The House ; award for Best Song: Gorillaz thank-you speech)


Brit Awards, ab1


Gorillaz at the Isle of MTV, Lisbon, Portugal (Tomorrow Comes Today, Clint Eastwood, tiny bit of Damon interview) (July 02)


books


promo book Gorillaz Partnership 2000 Gorillaz 40-page LDT edtion official comic book


Tank Girl - Get Knotted!, 1990, published by Penguin Books


Tank Girl #3, July 1991, published by Dark Horse Comics


Deadline #36, Dec/Jan 1992 featuring full colour cover of Blur illustrated by Jamie Hewlett and an interview with the band conducted by Jamie Hewlett


postcards


Geep


2-D


Murdoc


Russel


Noodle


photos & slides


6 promo slides from EMI


29 pix from Bristol Academy, Bristol, UK, 15/12/2001


shows


22 June 2001: La Cigale, Paris, France


28 September 2001: The Forum, London, UK


15 December 2001: The Academy, Bristol, UK


posters


limited edition print featuring 12 drawings from the 19-2000 video storyboard

here are some of them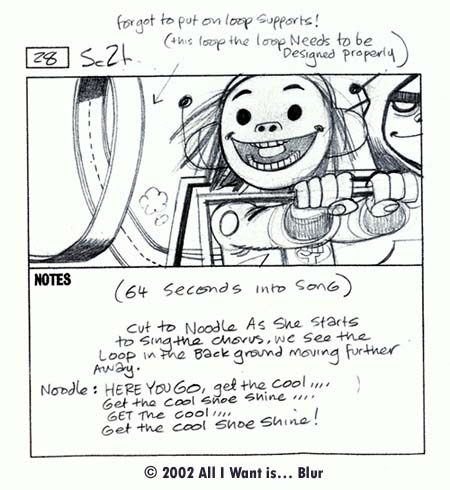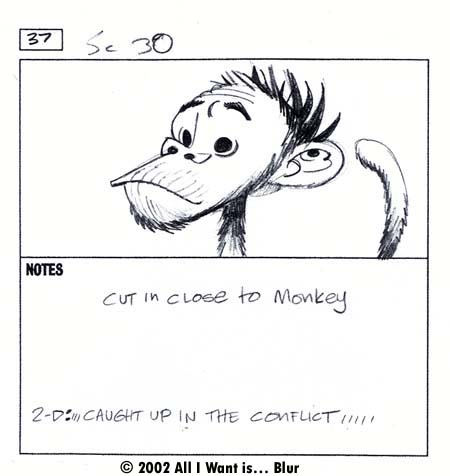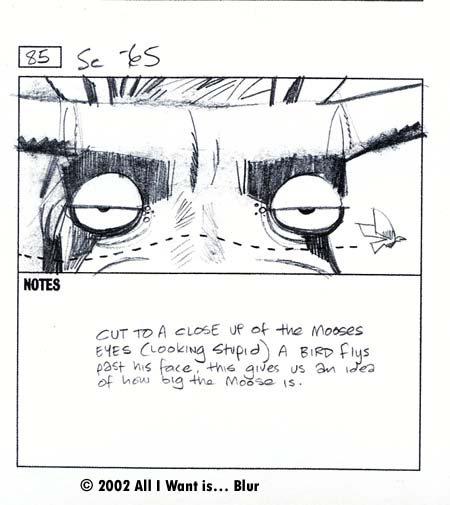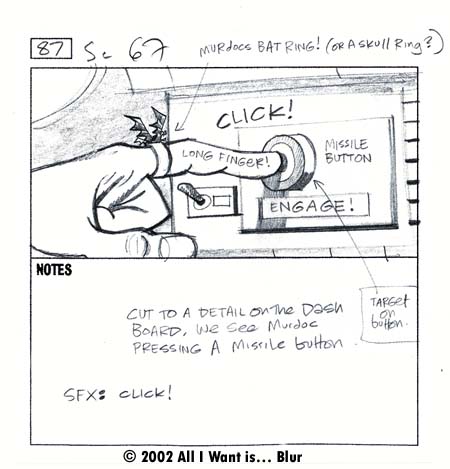 T-shirts


a Noodle T-shirt


Buttons


10 different buttons