---
22 July '99, The Point Depot, Dublin, Ireland
reviewed by Maryse Laloux


The Dublin gig at The Point Theatre on July 22nd was probably the best Blur gig I've ever been to. Why ? To me, it is pretty obvious. Blur are getting better and better all the time and they now have such a rich selection of brilliant songs to choose from. At The Point, Dublin, the setlist was the best that could possibly be :

Tender
Bugman
Coffee & TV
1992
BLUR EMI
Chinese Bombs
Advert
Coping
Popscene
Trimm Trabb
Battle
No Distance Left To Run
------------------
Beetlebum
Country Sad Ballad Man
To the End
This is a Low
-----------------
Girls & Boys
There's no other Way
Parklife
Song II

20 stunning songs whose first chords inevitably set the audience in a frenzy of excitement. Of course Graham's Coffee&TV was particularly successful, Popscene and Bugman kicked ass, No Distance and This is a Low produced seas of lighters, the first encores were mind-blowing, the second ones drove all of us nuts.
I'll conclude by saying that I spent my holidays in Ireland for the only reason that Blur were doing that one-off gig in Dublin and gee ! how happy I am I went there because not only Blur's performance was awesome but also what a beautiful country Ireland is !

Maryse Laloux (Two's A Crowd)


---

reviewed by NIAMH HOOPER


IRISH INDEPENDENT, FRIDAY, JULY 23, 1999

Teenage fans in seventh heaven with pop heroes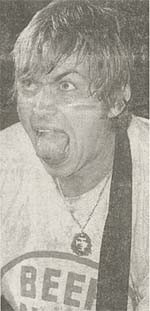 YOU'D wonder, after seeing Brit pop's Blur, just where they got their name. A description of what their teenage fans saw on stage at the Point last night, perhaps.
In the only Irish gig on their world tour, Damon, Graham, Alex and Dave belted out their heavy grungy stuff -- to the backdrop of swirling psychedelic circles.
The band kicked off the show with their recent single Tender, and babyfaced Damon looked right at home in denims and a grey t-shirt -- as if he was jamming in the recording studio.
But the crowd of up to 5,000 -- all of whom had been frisked by the security on the way in -- were in manic, sweaty, reckless, teenage heaven.
Girls in skinny vests, boys with long side-burns clambered ever closer to the stage, throwing runners, tracksuit tops and tricolours in the dense dungeon air.
Blur's new and sixth album, 13, was played almost in its entirety -- and the crowd obligingly went wild on cue, especially to the heavy Bugman, the current single Coffee and TV and the Space Age tune, as Damon called it, Battle.
And then, nonchalantly, they moved from deafening heavy rock to the comparatively gentle lullaby No Distance Left To Run, at which moment the lighters were produced in abondance.
After a foot-stomping, hand-clapping frenzy, Blur burst back on stage to thunderous applause and launched into the litany of hits that made them famous.
Damon is a man of few polite words. His songs say it for him and the last eight which the band covered in the two encores were reminiscent of the Oasis/Blur battle of the bands.
Favourite numbers with the crowd included the slow, gentle This is A Low, There's No Other Way, Beetlcbum, Country Sad Ballad and the title song of the album Parklife.